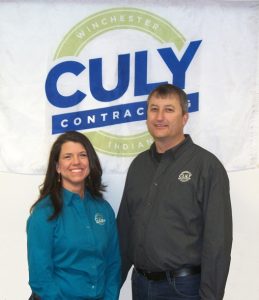 Chris Culy and the Company's experience in the contracting/construction industry began in 1978.  Chris began in the field with a small operation, Doreen Culy came into the business in 1993. With the many valuable employees added over the years the company has grown to over 110 employees.  The experience among the office/management staff totals over 340 years.
Culy Contracting maintains prompt and professional service.  We focus our work area in the Midwest, but are reaching out further with our Manhole & Sewer Rehabilitation and Pipeline Services.  We are properly prepared for any work, as we currently have over 125 pieces of equipment to achieve projects safely and efficiently.
Supervisors are 30 hour OSHA trained, other field employees are 10 hour OSHA trained.  Field personnel are CPR and First Aid trained. We are proud to be a member of CCS (formerly MICCS), Coalitions for Construction Safety, and pride ourselves on being a drug free company.
Culy Contracting maintains active within the Community.  Chris and Doreen take part and encourage employees to participate in Community activities, thru volunteering and donations. Employees are involved in various clubs, youth sports and service activities that benefit the community. Everyone finds this to be an enjoyable, fulfilling experience of self-satisfaction.
Culy Contracting maintains its main office in Winchester, Indiana.  In recent years has added maintenance shops and yard areas in Saratoga and Richmond, IN and Morristown, TN.
Main Office
5 Industrial Park Drive
Winchester, IN 47394
Other Locations
Saratoga, IN
Richmond, IN
Morristown, TN (Manhole Rehabilitation & Protective Coatings)
Testimonials
May 29, 2019
I sincerely want to say thank you for sending your guys out on such short notice and for acting like professionals on the job site. I personally look forward to working with you guys again, and I will continue to recommend you.  Please let me know if you ever have any pump, controls, or equipment questions or need anything.
Grant Kissel
BBC Pump and Equipment
---
April 12, 2019
Great job on completing the additional mainline TV & Cleans. You guys are a great crew and your seamless work does not go unnoticed. Good luck on your upcoming projects and we look forward to working with you in the future.
Tom McGreevy, Senior PM
Performance Pipelining Inc.
---
December 19, 2018
Been with Dalton before and always get the same good results. Being back in contact with them in the field on the Dayton and Clermont job has been a pleasure. He runs a solid crew and we always get quality work and excellent communication from them. The extra time he puts in to make notes and clarify issues is invaluable down the road when the tv crew in gone. Seems like we always hear about things that go bad so wanted to make sure I shared some good results. All the City Rep's and Owners echo the same acccolades. Look forward to the next project we work together on.
Michael Hipp, Insituform Technologies LLC
---
July 8, 2018
Dear Mr. and Mrs. Culy,
I needed to take the time to send you an email regarding the project that was done at the entrance of my development. If you were not aware of the location of the worksite, it was situated at the top of two hills. There are several blindspots in this location and it is a favorite of cyclist for the hills. Ron (Weston) kept the road open due to the amount of traffic and the blindspots. We have six buses that come through the neighbor hood twice a day, two homes were under construction and one hme be renovated. This did not include all the regular contractors such as painters, landscaping companies, tree removal, etc. He kept the site clean and kept us well informed. We are grateful not only for the job that was done, but the extra care and service provided to our community.
Monique McMillian, President, Valleys at Geist Homeowner's Association
---
May 25, 2018
It looks really great out here Aaron (Anderson)! Once again Culy nails it!
Scott Salsbery, Utility Superintendent, City of Lawrence, IN
---
December 16, 2017
Finch Constructors, Inc. would like to recognize and thank Culy Contracting, Inc. for their
Professionalism and performance. Our expectations were met and exceeded by the crew performing the underground ductile iron install and hydro-excavating.
Stan Searles, Project Manager/Estimator, Finch Constructors, LLC
---
June 19, 2017
Your company has a long standing of professionalism within our industry, and it is always a pleasure working with you. Your compassion is just as admirable as the quality of work you do. We thank you again, and will be looking forward to working with you on future projects.
Joshua A. Castor, Project Supervisor, Anderson Water Utility
---
April 11, 2017
Your crew made the repairs to the structures and they looked absolutely beautiful if you can say that about a waste water plant. Now we also know that the repairs perform just as good as they look. We are extremely pleased with the outcome of this project.
I want to let you know that the performance of your crew exceeds expectation as well. We really appreciate the fact that these gentlemen were able to help us out even though we had a very tight time frame. They were all very professional and task oriented. Their attention to detail is outstanding. The finish product application is something to be admired. They left the job site clean and cared for. Their interaction with my office staff was professional and courteous.
In closing, I will definitely be looking to Culy Contracting the future for our manhole sealing projects. Thank you,
Charles Lehmann, Operator/Foreman, Wynstone Property Owner Association
---
August 29, 2016
Thank you so much for the services that Culy Contracting has provided for us. Your company is a life saver in this field of work. They are a great group of guys who performed their jobs to the highest of standards. The crew did an amazing job, and we challenged them with our manhole locations in the creek. They overcame every obstacle in their path and made it look easy. Overall, your company is A++ in my book and I look forward to continuing a partnership with Culy Contracting for years to come. Thank you so much,
Mike Reed, Belmont County Sanitary Sewer District, Collection System Supervisor